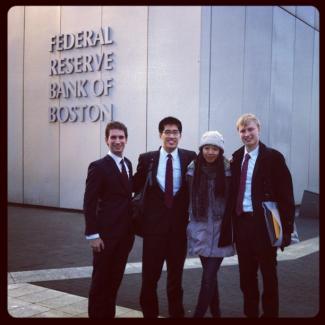 Each November, Yale sends an undergraduate team to compete at the College Fed Challenge hosted by the Federal Reserve Bank of Boston.  The competition challenges students to step into the shoes of the Federal Open Markets Committee and determine monetary policy.
We deliver a 20-minute presentation by analyzing the current state of the economy, making policy recommendations, and finally engaging in a Q&A session where Federal Reserve economists test our understanding of economics, finance, and monetary policy.
New team members work closely with upperclassmen and Yale professors to learn more about finance and economics, conduct rigorous economic research, and develop the team's presentation. The Fed Challenge is a great opportunity to meet new people, be part of a team effort, and learn more about financial markets, economic policy-making, and central banking.
If you are interested in joining, email Jack Shu at jack.shu@yale.edu.